Buy CBD Oil in Cedar Rapids, IA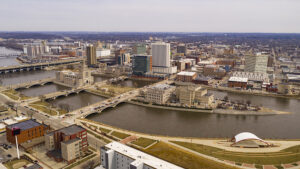 A melting pot of culture, architecture, fine arts, and nature, the rapidly growing city of Cedar Rapids is a treat for locals and visitors. Priding themselves on diversity and deeply-rooted midwestern values, one can experience tight-knit communities juxtapositioned with over 3,000 acres of natural, open landscape to traverse. From fishing and scuba-diving to bird-watching and hiking, locals connect with nature as part of their down-home traditions and appreciation of Mother Nature herself.
This connection to all things organic and holistic may explain the rise in popularity of plant-based wellness remedies in Iowa in recent years. Residents seem to be replacing unreliable, toxin-based options with plant-derived ingredients to help them feel their very best each day. One of the most highly sought-after natural ingredients is CBD, which has made a positive impression on Iowa locals and wellness consumers all across the nation.
The Wonder of CBD
The acronym for cannabidiol, CBD is the groundbreaking plant-derived molecule leading the charge for holistic wellness options. One of the numerous cannabinoids derived from the cannabis plant, CBD, and other similarly-structured compounds are widely used in all-natural health, wellness, and lifestyle products designed to simplify your daily routine and encourage all-around harmony – mind, and body.
Derived from the hemp plant, CBD and other phytocannabinoids play an essential role in a balanced wellness ritual. The body interacts with cannabinoids to promote homeostasis from within. The ECS, or Endocannabinoid System, is responsible for helping the body maintain optimal functioning, both physically and emotionally. CBD offers natural support without fear of uncomfortable, mind-altering side effects as an organic and plant-based option.
Since the Farm Bill of 2018 was signed into law, all hemp derivatives became federally legal with one caveat: products cannot contain more than .3% THC. Tetrahydrocannabinol (THC) is the infamous ingredient responsible for the "high" commonly associated with marijuana. Because CBD is derived from hemp, not marijuana, and can only contain a minute amount of THC at most, consumers can enjoy a euphoric-free wellness experience. At the same time, they reap every organic benefit CBD has to offer.
CBD has quickly become one of the most popular and dependable natural products in Iowa because it is:
Safe to use every day
Non-addictive
Non-psychoactive
Versatile
100% federally legal
Completely plant-derived
When you shop with a retailer like Farm to Health Organics, you will not only be supporting one of Iowa's Heritage Farms, rooted in tradition and Christian family values. You will also be enjoying the benefits of some of the most prolific and phytocannabinoid-rich hemp plants in the nation. If you're like most residents, Farm to Health Organics is your first stop when you want to buy CBD oil in Cedar Rapids, IA.
You won't be disappointed when you make the decision to elevate your wellness routine with one of the world's most natural ingredients: CBD.
Farm to Health Organics: Your Trusted CBD Experts
At Farm to Health Organics, we believe in the power of natural products. Whether your goal is to maintain your current healthy lifestyle or elevate your everyday routine for a brighter tomorrow, you deserve premium quality products. We offer an incredible inventory of handcrafted, performance-driven CBD products designed to fit seamlessly into your lifestyle.
Most retailers offer a limited variety of CBD basics like CBD Oral Drops and CBD Softgels; We offer all of the tried-and-true basics you know and love, plus a growing selection of unique and cutting-edge THC-free CBD products to enhance nearly every aspect of your life.
Ready to buy CBD oil in Cedar Rapids, IA? You can browse our online shop 24/7, or do yourself a favor and take a drive over to our retail store located at:
Farm To Health Organics
1107 3rd St. SE    Ste. C
Cedar Rapids, IA 52401
We would love to meet you in person, which we believe is the best way to connect with you, learn about your individual needs and preferences, and point you in the right direction using our compassion and expertise. You can also scroll down on our Contact Page to see the full list of local wholesale partners who sell our premium quality CBD products in-store.
When you shop with us, you can feel absolute confidence that we are committed to offering superior quality CBD products thoughtfully-designed with you in mind, purified to perfection for your safety. Third-party lab-tested as an extra measure of quality assurance.
If today is the day that you want to start choosing farm over pharm, Farm to Health Organics is your trusted local CBD retailer, proudly bringing everything you love about holistic living to the beautiful people of Iowa as well as wellness enthusiasts across the nation. Get started today!